Royal Mansour
Introduce distilled light and the softest touch of Moroccan decor to your kitchen, living room and bedroom, across your table, and in the bath for a unique global look in your inspiring home.
We find inspiration in the intricate latticework seen in the Royal Mansour, a palace hotel in Marrakech, Morocco. Our collection of block print linens adds a soft, regal elegance to your Moroccan home decor. Use this white-on-white medallion print to turn your home into your own personal palace of delight and beauty.
Whispers of Moroccan style in the kitchen
Introduce dazzling, white-on-white Moroccan design to your space with our lovely light-diffusing kitchen curtains. They'll add just the right amount of privacy and light–and just the right amount of gorgeous, too! You might also consider combining the cafe curtains with a beaded valance for a little added sparkle.
Saffron Marigold
Like Royal Mansour, this tablecloth draws inspiration from Marrakesh, Morocco. It brings a spot of color to your kitchen, and it's a great addition to your collection of Moroccan decor.
Saffron Marigold
You may have a lovely wooden table that you love to show off in your kitchen. If so, a table runner is a wonderful option for bringing a touch of Moroccan decor into your space.
Gilt and Glory
Every cook needs to know the time, so why not hang a clock that infuses bright color and Moroccan design into your kitchen? It will look beautiful with your Royal Mansour curtains and linens!
West Elm
Like our Royal Mansour print, these dishes feature tone-on-tone geometrical shapes. They'll fit right in with the rest of your Moroccan kitchen decor.
Global elegance in the living room
The white-on-white Royal Mansour print nods to the latticework found in Marrakech's palatial hotel. The collection translates easily into any home decor palette. Easy and serene, these gauzy white sheer curtains will welcome sunshine to your space while still providing privacy.
Saffron Marigold
New pillow covers provide a high-impact change in decor that's affordable. Even better, Royal Mansour's neutral palette makes mixing and matching Moroccan style fun and easy!
Jamali Garden
Antiqued lanterns will just add to the sparkle and light of Royal Mansour. 
Saffron Marigold
Echo the rhythms and patterns of Royal Mansour by including a few throw pillows in another one of our Moroccan prints. Mosaique Bleue supplies color, warmth, and texture and looks particularly striking on a leather sofa or chair.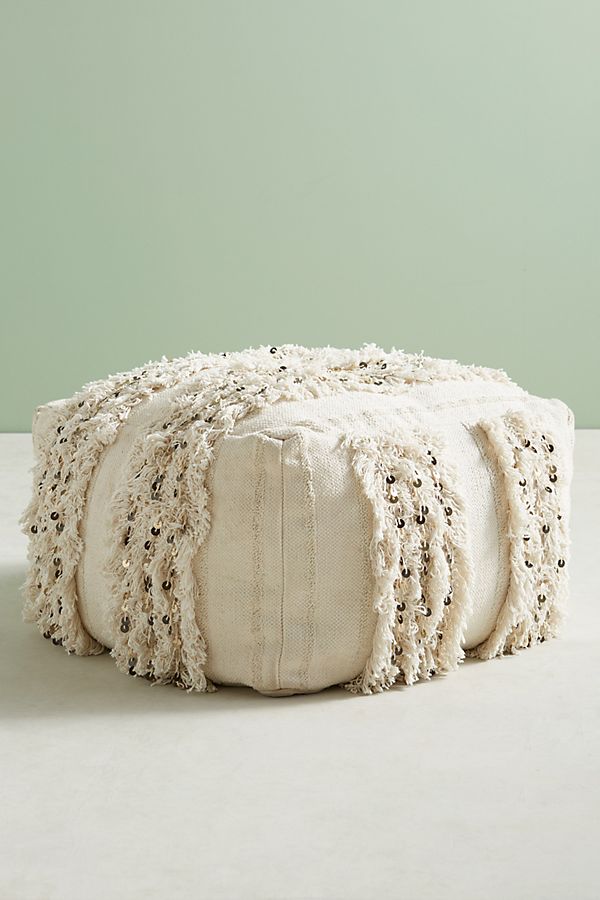 Anthropologie
Layer in texture and give your tired toes a place to relax after a long day with this cushy Moroccan pouf.
Refined dining in a globally-inspired space
Whether for a formal dinner or for everyday elegance, you'll love the understated global lines of our white-on-white table linens. These hand block print treasures lend an air of freshness to your table.
Product recommendations
For an elegant dining space infused with Moroccan style, look for timeless pieces in shades of cream and white with gilded or geometric features.
Bloomingdale's
Treat your guests to the simple luxury of a good cup mint tea, made all the more glamorous when served in this sophisticated Kate Spade pot.
West Elm
Clean, geometric pattern adds intrinsic serenity to a space–even more so when it's warm, whitewashed wood. What a gorgeous tone-on-tone look!
West Elm
The simple lines of these glimmering lanterns coordinate beautifully with the trellis pattern in Royal Mansour. Include a few flickering votives for a warm glow.
Saffron Marigold
For a meal that feels special, set your table with cloth dinner napkins–your guests will delight in this little luxury.
Subtle Moroccan style for your bath
Transform your bath simply and elegantly by hanging our block print shower curtain. We pay attention to every detail so that you can just sit back, soak, and enjoy.
Product recommendations
An elegant white bathroom invites you to cast your cares from the day away and simply relax. Include Moroccan designs with gilded accents and intricate patterns to carry the look into every room.
World Market
Hang a carved, whitewashed mirror in your bath, and you'll echo the light-diffusing quality of Royal Mansour.
Pine Cone Hill
Add warm texture by using the palest of pink towels in your bath. 
Jamali Garden
Repurpose a traditional Indian serving dish in your bath as a space to collect candles, soaps or jewelry.
Saffron Marigold
Enjoy abundant natural light streaming through the window with this white sheer valance. You'll love watching the beads twinkle in the sunshine!
White bedding in a Moroccan bedroom
It would be a dream to sleep in a palace, wouldn't it?  You can indulge in a luxurious bedroom even without taking a trip to the Royal Mansour palatial hotel in Morocco. Simply use white bedding (like our Royal Mansour block print linens) to create a room fit for a queen.
Product recommendations
For a regal approach to Moroccan decor, layer in lots of textures in the same color palette. For example, use high-quality white sheets with your Royal Mansour white bedding, and bring in items that you love to touch and see. Warm blankets, gorgeous artwork, a soft rug underneath–purely sumptuous!
Saffron Marigold
Every bedroom needs curtains that filter light and provide privacy. These white-on-white medallion print window treatments are the perfect sheer white curtain.
Little Light Bazaar
By day, this is a stunning work of art. By night, it casts a gentle illumination throughout the bedroom.
Saffron Marigold
Cozy up with comfy pillows and settle in for a blissful night of sleep.
Pottery Barn
Don't forget to place something soft underfoot! A shag rug is a warm and inviting addition to any space dressed in Moroccan decor.
Mix and Match Saffron Marigold
If you love the look and quality of Saffron Marigold linens, then you may want to build your style with some of our other global prints. Take a look at these,  all of which work well with Royal Mansour.
Saffron Marigold
Pair Royal Mansour with our glamorous Vanilla Glacé for sheer sophistication. This duo will elevate your space and will help you create a fresh, enchanting home.
Saffron Marigold
If you want to play with color, add in a bit of Casablanca. This pairing will remind you of the azure sea sparkling behind the bright white spires of Morocco.
Saffron Marigold
Keep your look soft and subtle by layering sweet Bridal Veil with Royal Mansour. Bridal Veil adds the tiniest bit of gilt and sparkle and a lot of soft, light texture.