1920
In our Art Deco pattern–aptly named 1920–Jazz Age style meets modern sensibilities. You'll love the sleek, sophisticated versatility of this charcoal grey and white geometric print. From elegant sheer grey curtains suave Art Deco bedding, 1920 calls us to enjoy a little luxury every day. Find linens for the bedroom, living room, kitchen, bath, and dining room.
Sexy grey bedding with an Art Deco pattern
Charcoal grey and white is an on-trend color combination that oozes with style. Our print works just as well in a masculine bedroom for modern sophisticated look as it does in an elegant woman's bedroom. In fact, this might be the win-win bedding option for couples since it has something for everyone! Pair a grey duvet cover or bedspread with rose quartz to create a soft, romantic look, or reach for bright daffodil hues for an edgy, modern vibe. For an ultra sexy bedroom that's right in line with the beloved jewel tones of Art Deco style, try sheets and bedroom decor in shades of plum or emerald. Simply divine.
Style your space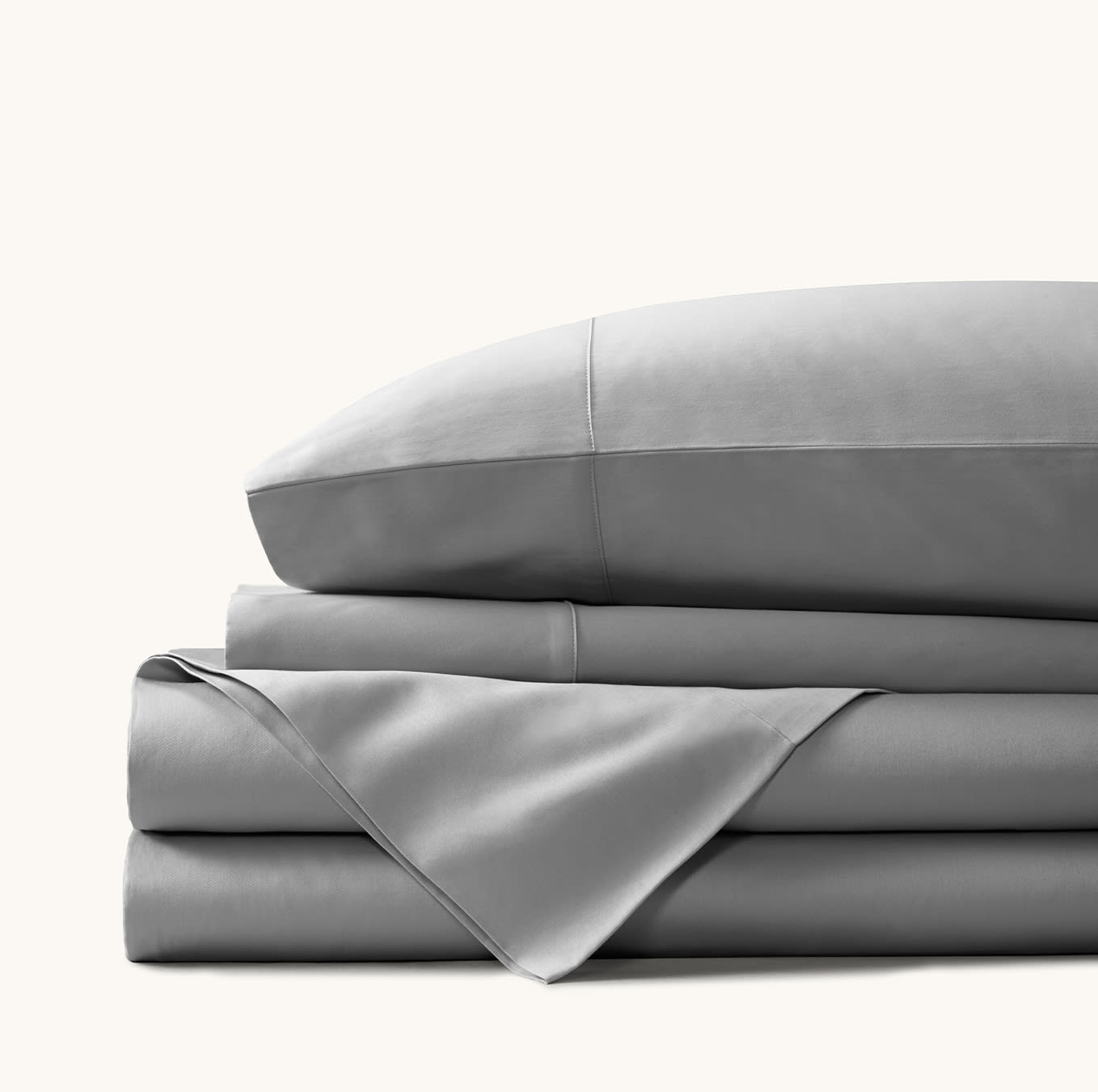 Boll & Branch
Silvery sheets in soft organic cotton make a streamlined and stylish pairing with our grey duvet cover.
One Kings Lane
Drenched in deep emerald green, this velvet tufted bench is the one you'll want to have against the foot of your bed.
Aroma 360
Every (sexy) bedroom needs candlelight, and this candle not only looks great, but its fragrance–a twist of lemon mixed with cedar wood–conjures images of speakeasies and mystery.
Mercer 41
Whether you want to have an all-out 1920s bedroom or just a bit of Art Deco in the bedroom, hang a beveled mirror like this over your dresser for a spot of glamor.
Choose grey curtains for a cosmopolitan living room
Our geometric curtains make for an Art Deco living room that's on point, but they also lend themselves to boho style and modern farmhouse looks all the way to eclectic bohemian spaces. Whatever your preference may be, you can create chic interiors with sophisticated dark grey curtains hanging out the windows. They'll look fantastic dressing windows that frame metropolitan views or mountain vistas alike. Toss a few grey throw pillows on the sofa to unify the design.
Style your space
Saffron Marigold
Our geometric throw pillow covers nod to the Chrysler building, but perhaps you see faceted diamonds and jewel shapes when you gaze upon this pattern. They exude elegance either way!
Saffron Marigold
A geometric medallion, block printed in smoky quartz, contrasts with 1920 in terms of shapes and saturation–a delightful addition to your mix of grey throw pillows on the sofa and alongside your geometric curtains.
Elisabeth Frederiksson
Geometric decor has always been the bees' knees, and this Art Deco pattern clock provides extra glamor in your living room decor.
Charlton Home
Drape a luxe blanket in rich amethyst across an easy chair, couch, or even the foot of the bed for luxurious way to unwind.
A classy Art Deco kitchen
A white kitchen is mainstay in kitchen design, and grey has recently been an up-and-coming color in today's kitchens. Together, grey and white look both clean, modern, polished, and vintage all at the same time. With that in mind, lend a touch of modern vintage style by hanging a set of grey and white kitchen curtains at the window.
Style your space
Saffron Marigold
These aren't your basic white cloth napkins–far from it! Ours are block printed by hand in a dazzling Moroccan pattern and give your table setting that little extra something.
Saffron Marigold
Cover your dining table with our grey round tablecloth whether you're having friends over for cosmos and gossip or a glass of bourbon and game of cards.
Cedar & Jones
A vase like this can fulfill its duty by holding blossoms, of course, but it can also stand alone as a decorative work of art.
World Market
Why settle for an ordinary tea rest when you can have an artistic one instead? These Art Deco-inspired set is altogether unique, modern, and charming.
A grey shower curtain in an Art Deco bathroom
Bathrooms are typically small spaces, so unless you are wild about maximalist decor, it would be a good idea to let your shower curtain serve as the focal point for this space–especially since the shower (or tub) takes up the most real estate in this room! Our geometric shower curtain is eye-catching indeed, commanding all eyes on it. Armed with that knowledge, decorate the rest of the space to complement–not compete with–your Art Deco linens.
Style your space
Saffron Marigold
A cafe curtain is a fantastic choice for the bath since it filters sunlight while ensuring privacy. If you're up for a bit of pattern mixing, reach for this grey and white curtain to hang at the bathroom window.
The Metal Foundry
Why let modern farmhouse style have all the fun with decorative signage? Bring a little Art Deco touch to your bath–or better yet, the guest bath–with this plaque.
West Elm
Certified organic, these luxurious towels are made with extra-long staple, double-ply Turkish cotton for supreme softness.
Orren Ellis
Turn the bath into a soothing space by letting your linens take center stage and choosing accessories in solid colors. This set is comes in forest green, antique white, and pearl pink.
A grey tablecloth for a dapper dining room
The dining room can truly be the place in your home where you bring all things sophisticated, Jazz Age, and Art Deco to life. Your guests will feel as if they've stepped back into the era of Gatsby glamor. Serve up your gin martinis and tasty nibbles in that very spirit, then, by spreading one of our elegant table runners over a console or buffet, having cocktails at the ready, and creating a fine place setting with our block printed grey napkins.
Style your space
Saffron Marigold
Our block printed cloth napkins elevate your table game and look great at any place setting whether you've wrapped them in napkin rings or given them a simple fold.
Saffron Marigold
For effortless elegance, lay out a grey and yellow table runner that offers a dose of color in a classic color combination.
The Boston Shaker
Keep a stunning set of bar tools on hand whether you love all things related to the Jazz Age or whether you simply enjoy a finely crafted cocktail.
World Market
It wouldn't be an Art Deco dining room without a bar cart! With its golden circular design, this one makes a particularly glam match with our Art Deco patterns.
Mix and match Saffron Marigold
1920 and Deco Glam, the two offerings from our 1920 collection, can stand on their own, mix with each other, or pair together with an entirely different kind of print that shares a common thread of color. If you love the look of our Art Deco patterns and want to build on your collection of Saffron Marigold Indian textiles, no worries–we have some linens that you can mix and match to your heart's desire!
One art deco pattern, three ways
Use 1920 with rich jewel tones for Art Deco style or soften it with pastels. Pair it with other shades of grey, black, and silver for a suave look, or add pops of bold, clear colors.
A monochromatic color scheme always looks polished and smart. As an added bonus, monochromatic design is always "in." To achieve this look, simply stick to shades of grey, silver, black, and white.
For a true 1920s Art Deco sense of style, pair your grey and white linens with metallic accents and jewel tones. Essentially, if it's the color of a precious gem, it will look fantastic here! Think ruby red, amethyst purple, sapphire blue, and emerald green in luxe finishes.
For contrast, pair the deep, dark grey of 1920 with shades of pink, champagne–even peach. These soft colors balance and brighten the look of 1920, imparting sweetness and romance.
Of course, you aren't limited to these three color palettes. Try pairing bold yellow with dark grey, or try using grey as an accent color or neutral mark in a more colorful space. However you envision using our Art Deco pattern, you're sure to have a glamorous space.
Shop The Entire 1920 Collection »