A coastal cottage is a haven from the busyness of the outside world. In this space, we slow down from the demanding pace of work and obligations and turn to an approach that embraces peaceful relaxation. Decorating coastal cottages–or even decorating with coastal or cottage-inspired accents–reflects a nautical setting, a love for nostalgic coziness, and an easy-breezy style.
American coastal cottage design originated in Cape Cod, Massachusetts, but its appeal reaches far and wide. Part of what makes coastal style so enduring is its invitation to kick back and relax in casual, effortless style.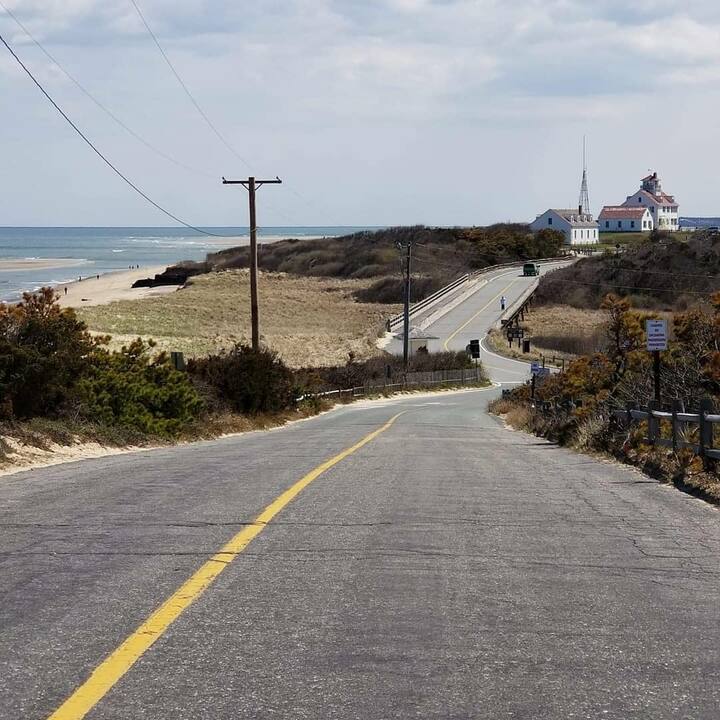 With that, we turned to an expert to see what she's done to create authentic, meaningful coastal cottage style in her home.
Q&A with Little Eastham Cottage
Jenny Shaw is the owner of Cape Cod's Little Eastham Cottage, a 622-square foot cottage filled with charm from its painted wood floors, latched doors, window seat, and coastal cottage decor. This cozy little house was built in 1930 on the National Seashore near the Coast Guard Station, but it was moved to its current location in 1964.
Jenny shares snippets of Cape Cod life and New England's beautiful four seasons on her Instagram account (aptly titled Little Eastham Cottage), and she talked with us recently about how she creates such a welcoming atmosphere in a small cottage.
1. How did you come to find Little Eastham Cottage?
We were casually looking for an affordable place on Cape Cod, and we happend to notice the listing the day it came on the market, and we went to look at it immediately. We put in an offer that day, and the rest is history. It's kind of amazing how fast it happened, and we feel incredibly lucky to be its current owners.
2. What do you consider to be the essential elements of coastal decor?
Coastal decor can really be anything you want it to be! I personally try to stay away from overtly nautical styles, so no mermaids or lighthouses for me. I do love vintage artwork of ships and seascapes (and, of course, you can never have enough stripes!).

3. Do you have any tips for decorating smaller spaces?
The most important thing to keep in mind: measure your space. It was a challenge finding just the right sofa that would fit our living room, but "cottage style' pieces are often scaled down to fit smaller spaces. Stay away from furniture with large, cushioned-rolled arms–those kinds of arms just take up space. Some antique styles are affordable and just the right size since they were often built for smaller homes.

4. How can you cozy up a beach cottage–especially in the off season?
I love using texture to keep things from looking too summery or beach, particularly in the cooler months. It's nice to have layers of throw pillows and blankets on hand. They're easy to swap out in different colors as the seasons change. Kantha quilts are all the rage now–I love them as covers for sofas and chairs to add warmth and texture.
5. What are your favorite pieces of coastal decor in Little Eastham Cottage?
I really enjoy all my vintage artwork that I've collected over the years, and of course I adore Saffron Marigold's Starry Night patterned pillows. I just love how beautifully they blend in with my other stripes and florals.
More coastal cottage decor ideas
To bring a sense of seaside cottage style to your home, turn to the source. Cape Cod coastal style usually features lots of natural light and a few nautical touches. Blue and white provides a crisp, clean palette for coastal decorating.
As Jenny mentioned earlier, cottage rooms tend to be on the smaller side–and so do the windows. Brighten up the space and maximize natural light with white walls and window treatments. Use patterned bedding and pillows to bring in color and to build on classic blue and white color scheme.
You don't have to worry about covering the walls of your cottage kitchen with lighthouse wallpaper to have a coastal look! Keep things breezy and simple by dressing a coastal kitchen with tablecloths, cafe curtains, and kitchen towels.
Add a bit of coastal cottage style to bookcases and shelves by adding a few special items that nod to all things nautical: a stunning shell you found on the beach, a collection of seafaring adventure novels, a sign or pennant from a favorite getaway.
Our coastal collections
Each one of our hand block printed collections of linens is designs to carry you away to another place or time, so you can use our block printed fabrics to transform your home into the cottage of your dreams whether you already live at the water's edge or whether you long to live at the seaside. Here are a few collections that bring the coast to mind:
Pacific Blue
Our sea-inspired Pacific Blue collection features handcrafted resist-printed linens. This print makes it easy to bring a touch of coastal decor to any room.
Pacific Blue ~Rustic Navy Blue Ocean Oriental Asian Table Runner
$100.00 - $120.00
Pacific Blue (CP) ~ Rustic Navy Blue Ocean Oriental Pillow Sham
$40.00 - $50.00
English Gardens
If you love the look of vintage cottage decor, then reach for our timeless blue and white floral English Gardens collection.
English Gardens ~ Cottage Style Botanical Duvet Cover
$250.00 - $300.00
English Gardens (CP) ~ Sheer Curtain Panel
$70.00 - $100.00
English Gardens ~ Euro Sham
$50.00
Starry Nights
With a patchwork of star-shaped flowers and white stars gleaming against a deep indigo ground, Starry Nights is a classic pattern that carries stories within its folds.
Starry Nights ~ Unique Batik Indigo Blue Duvet Cover
$250.00 - $300.00
(Made to Order)
See all of our collections to craft and create the coastal cottage home you've always wanted.