A beach themed bathroom is a favorite style for decorating bathrooms, and for good reason. After all, we head to the beach–and the bath–to unwind, escape, and refresh ourselves. Creating a beach-inspired bathroom is a fun and easy bathroom makeover project for the summer–or any time of year if you're a beach lover! Whether your idea of a beachy bathroom leans more towards a tropical look or something that incorporates nautical bathroom decor, we have a few easy tips that you can use to create a beach-style bathroom that resonates with your idea of the beach.
Since most bathrooms are small, you'll gain the biggest impact for this makeover by simply hanging up a new beach shower curtain. The shower takes up the most visual space in the bath, so by hanging up a new coastal shower curtain, you'll set the stage for your beach-themed bathroom and create a focal point in a flash. 
Which colors should you use in a beach themed bathroom?
When you decorate to summon the experience of the beach, use the colors that flash in your mind's eye when you think of the beach.
Are you dreaming of the sunny skies and digging your toes in the soft sand? Then use a classic palette of blue, white, and taupe to create an ocean-themed bath space.
Maybe you're going for more of a tropical beach bathroom. If that's the case, then style a tropical-inspired bathroom with colors like juicy mango, ripe pineapple, and palm tree green. 

If you equate time at the beach with time out on the water, then you can't go wrong with a timeless palette of blue and white for a nautical theme in your beach bathroom. Tie in accents of bright yellow or red if you want a little something extra.
Once you have an idea of mind of what kind of beach moment will inspire your bathroom decor, it's time to choose the right beach shower curtain for the bath.
Tropical shower curtains to steal away somewhere steamy
If just the thought of tropical locales has your heart singing, then you have a great source of inspiration for your beach bathroom decor. Using one of our colorful shower curtains provides the pattern, palette, and vibe you're going for in a tropical beach bathroom. 
Cool off and chill behind a blue shower curtain
Conjuring imagery of sea and sky, rich hues of blue possess the ability to calm and to refresh—no wonder spas use blue so frequently! Our blue shower curtains bring eye-catching beauty to any coastal bathroom. Our Pacific Blue collection offer the ultimate ocean shower curtain with rippling waves. Printed on cotton, blue shower curtains in shades of royal blue, cobalt blue, peacock blue, and sky blue convey vibrant coastal style.
A white shower curtain for classic, beachy summer style
There's nothing more inviting, timeless, or refreshing than the elegant all-white bath. The key to creating a purely blissful and beautiful all-white bathroom that doesn't read as one-note is to layer in texture and interest.  Our white-on-white fabric shower curtains marry vintage and modern design together. A crisp white cotton shower curtain is just the thing for any nautical bathroom and goes with all kinds of beach themed bathroom decor.
Brighten the bath with yellow summer shower curtains
Hang a yellow shower curtain to renew your energy and start your days with the zest of summer and the warmth of the sun! Whether you prefer shades of soft buttercup, bright lemon, or rich gold, a yellow summer shower curtain inspires joy. Yellow calls to mind the glow of late afternoon sunshine on long summer days spent at the beach. Here comes the sun, indeed!
Elegant beach bathroom decor
Once you have your beach shower curtains in place, you can continue to layer additional textures, and patterns in items that you'll use and display every day.
Bathroom curtains for the beach bathroom
After you've decided on the right beachy shower curtain, consider your windows. The summer season celebrates light, and our window treatments offer the right mix of beauty and seclusion while affording maximum natural light.
Midnight Lotus(CP)~ Blue Beaded Window Valance Curtain Treatment
Pacific Blue (CP) ~ Rustic Navy Ocean Asian Window Valance
Royal Mansour ~ Moroccan White Lattice Trellis Print Valance
Summer self-care essentials
Now that you've redesigned your bathroom space into a beach oasis of beauty and refreshment, it's time to pamper yourself a bit.
Williams-Sonoma
After a soothing soak, pamper yourself with a fragrant, skin-softening lotion.
Michael Design Works
Pamper yourself with lush foaming soaps and lotions that carry summer-inspired notes of greenery, peach, sandalwood, and melon.
Elegant accents for a beach bathroom
Little touches, like unusual, handcrafted shower hooks, enhance your space in an elegant way. For a personal touch, frame your own beach pictures to hang in the bathroom. Beach pictures make for great beach bathroom decor, and printing them out means you'll get to enjoy them longer! (Read: they'll finally be off of your phone.) 🙂
Emma Art Prints
You'll be dreaming of the beach days in no time with this trio of elegant coastal prints on your walls.
Mapologist
Mapologist creates gorgeous, streamlined designs of maps from locations around the world. These are great for an elegant sea-themed bathroom since they give a gentle nod to a meaningful beach.
Be You Decor Shop
Simply slide these rings onto your existing shower hooks for a tropical, beachy accent. We think these would look great with our Royal Mansour or Ivy Lace white shower curtains!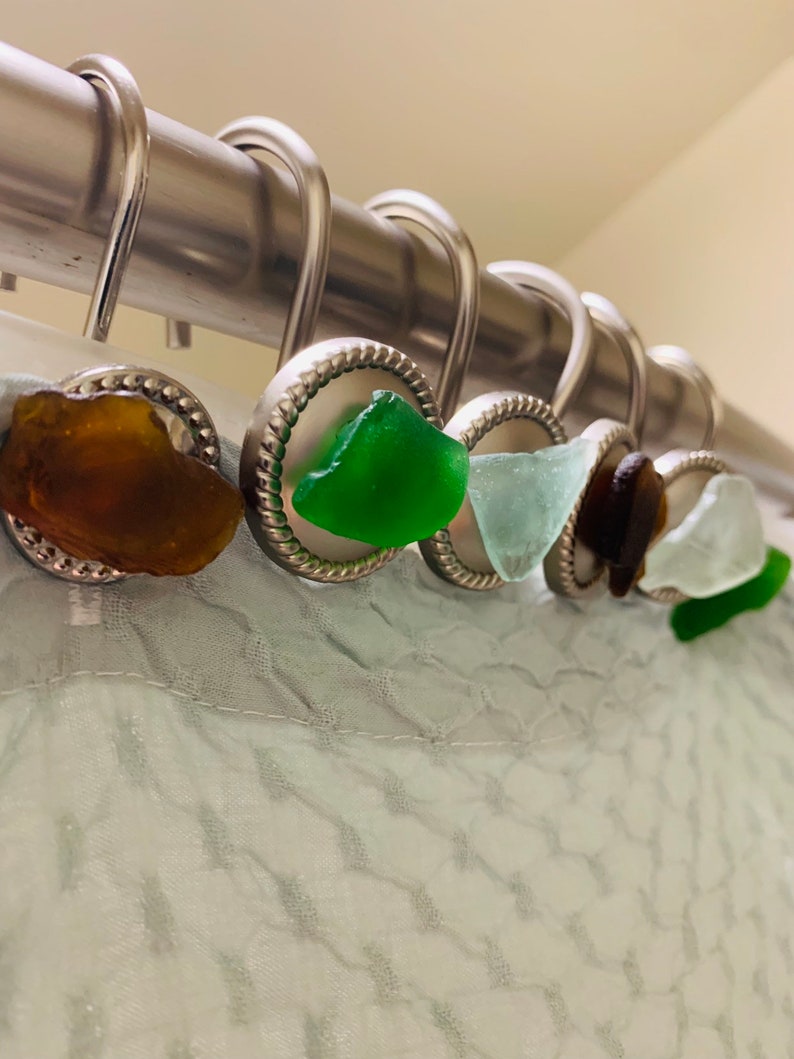 Jandeano Creations
For bathroom decor that meets at the intersection of beachy and boho, you'll want these handcrafted beach glass hooks.
Shop Shower Curtains Here