Our love for floral patterns stays in full bloom! After all, a great floral pattern is always in style. They're a perennial favorite in interior design. From flower-power boho bedrooms to lush living rooms to verdant dining rooms, floral patterns are always in full bloom.
Flowers are like friends: they bring color to your world.
What pattern goes with flowers?
You can pair other patterns with floral prints easily. Stripes and floral patterns form a classic combination while polka dots lend whimsy. A paisley print pairs elegantly with florals. And you can certainly mix flower patterns into your own stylish bouquet–we'll dive into that in a moment.
Find your favorite Saffron Marigold floral pattern
Our floral patterns convey imagery charming English cottage gardens to fields of wildflowers to tropical botanical species. We designed each of our handcrafted Indian woodblock prints with a specific journey in mind. You can join us in these journeys or use our prints to create your own! Whether you want to add a floral accent, express your passion for gardening, celebrate wanderlust, we have a floral pattern for you.
Meet Our Floral Prints
Fantastic floral curtains for every room
Floral curtain panels make it easy to bring color and pattern into a room: simply hang them up for an instant update! Along with our vintage floral patterns, our blue floral curtains and purple floral curtains are among our customers' favorites.
Refresh the bath with fabric floral shower curtains
Pull a flower shower curtain around the tub, add fragrant soaps, and you'll step into a vibrant garden. Hang an orange shower curtain or one with yellow blooms for an energizing start to the day. At the end of a long day, unwinding behind a red shower curtain, you'll love imagining you've escaped to the tropics.
Beautiful floral bedding helps a bedroom blossoms
To bring garden style indoors, make the bed with one of our floral duvet covers or lightweight floral bedspreads. The simple act of smoothing fresh floral bedding over your sheets will renew your spirit, and you'll turn your space into a scenic oasis.
Find fun floral pillows to revive your space
Try your hand at pairing patterns with floral cushion covers. Whether you're lining them up across the bed or tossing a few on the sofa, play with dimension (a mix of Euro shams and throw pillows does the trick!) Combine a bold oversized floral pattern with a small floral pattern for an eye-catching design.
Nostalgia, style, and grace with floral kitchen curtains
From cafe curtains to valances (or tiered sets), a floral curtain is simply at home in a kitchen. Depending on the print, you might feel like a flower pattern curtain transports you to your mother's kitchen…or a charming kitchen in the countryside. Whether you prefer a vintage look or a streamlined design, your kitchen will always be in style with floral print kitchen curtains at the window.
See our floral prints in real customers' homes!
Other ways to tie in florals
It can be great fun to design a room based around the concept of a favorite flower or garden inspiration. If you love the idea of blending in a few floral accents with your flower print linens, then consider a few of these touches to go with your Saffron Marigold linens!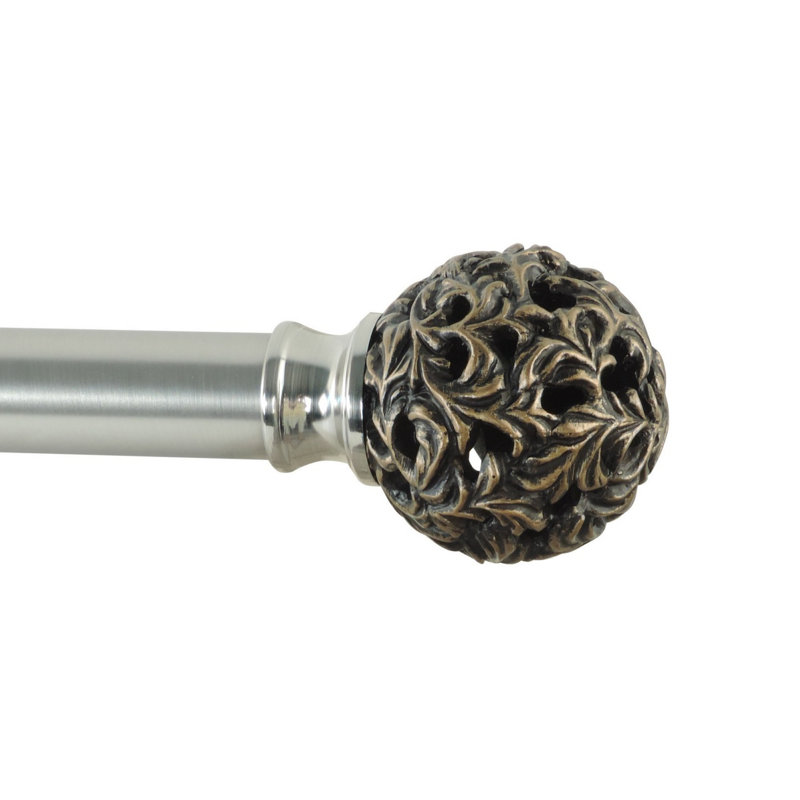 One Allium Way
This rod is a classic, standard rod in many ways, but note the finial: doesn't it resemble a bouquet of roses? What a charming and subtle way to connect to your floral curtains!
Urban Outfitters
Enter a new way to display pressed flowers: forever preserved in glass, these finals are the perfect finishing touch to any set of curtains.
Goose Creek Candle
Celebrate the season at hand with a candle from Goose Creek, whose candles fill your home with authentic fragrance.
The Bouqs Co.
Calla liles, roses, and more–fresh flowers are a must in a flower-inspired space! Go ahead, treat yourself to a bouquet, you deserve it!
Have you found your favorite floral pattern yet? Still narrowing it down? Maybe you'd like to see some of our other prints to pair a little something different alongside your blossoming linen collection. We can't wait to see which one you choose and how you style it!
Shop Everything Floral